E-choke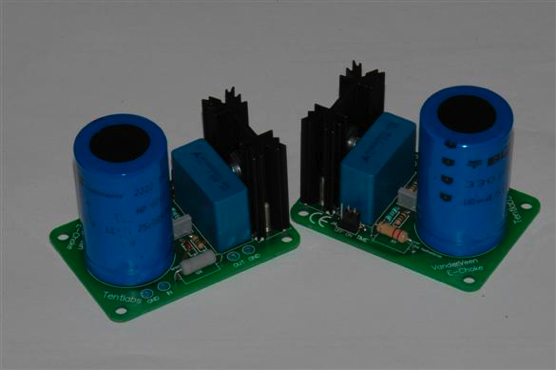 "Quiet background, more details, incredible specs "

DIY
The module comes fully stuffed and tested. It is intended for either upgrade of existing tube amplifiers, or building new. The E-choke is not suited as choke input filter nor as active anode load, as it does not store energy.
General Description
Designer
Menno Vanderveen
set the concept for this DIY module. The E-choke replaces traditional chokes that generally work quite well, but suffer from serious disadvantages:
• high weight
• big size
• magnetic field radiation that induces hum in the circuit
The E-choke effectively
solves
all these issues, and offers up to
70dB supply ripple reduction
at currents up to 500 mAdc. In addition, intermodulation distortion reduces dramatically, see the measurements and background articles below.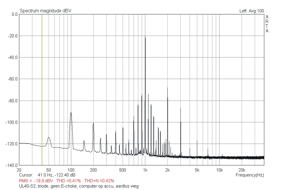 UL40-S2, triode, distortion no E-choke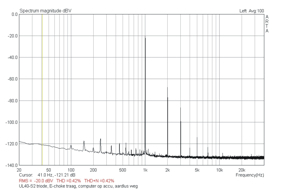 UL40-S2, triode, distortion with E-choke
Look how effectively the choke removes the hum, but also dramatically reduces the intermodulation products of the signal (1 kHz) with power supply ripple (100 Hz)
Technical description
See the background articles by Menno Vanderveen:
•
E-choke design
(English)
•
E-choke design
(Dutch)
Specifications
Electrical
•
Imax out 500mAdc

•
Vmax in 450Vdc (can be adapted to 600Vdc max when changing input capacitor to suitable working voltage)

•
Vripple 15Vtt (maximum input ripple)

• Equivalent inductance 10H
•
C-in 330uF/450V (included on module):
C-in may be reduced linearly when current consumption is lower than 500mA

C-in
must
be reduced when valve rectification is applied

•
C-out 330uF/450V (externally required,
recommended value
)

•
Voltage drop <17Vdc (in-out at 500mAdc load)

•
Dissipation <5W

• Heatsink integrated, connected to ground
•
Rejection :
>40dB, time modus off (mostly used with class AB amplifiers)

>60dB, time modus on (recommended for class A amplifiers)

•
short circuit NOT protected, always include fuse at module output

Specifications
Mechanical
PCB size: 72*50*50 mm (W*L*H) (includes electrolytic, excludes standoffs)
Hole pitch: 63*41 mm (symmetrical). All hole diameters 3.2 mm
Keep me informed
Send an
e-mail to Tentlabs
to keep me updated
Manual
No manual yet. Connections are fairly straightforward, see example below:

Warrantee
This module is warranted for 5 years, assumed all mounting instructions are followed
Orders and information
Go to the
shop
. OEM customers, please apply for more
info
.