ppm's are useless when specifying jitter
30/01/07 20:30
I added a very small item on the confusion around
ppm's

Read it, it is easy to comprehend and will help you in making the right choices.
XO's back in stock !
23/01/07 18:26

We have found a new manufacturer of our dedicated design XO's, I very much appreciate the patience brought up by many customers who had to wait quite some months on new stock.
Currently all values are back on stock, and we added 67.7376 MHz to our range. This frequency is found for example in the Kenwood L1000D and Marantz SA7-S1 and SA11-S1 CD players.
Tentlabs CD player on demo @ AE-Europe
18/01/07 20:42
AE Europe organizes a
demo
with their amps and Isophon speakers. Sources will be an Acoustic Signature turntable and
Tentlabs CD player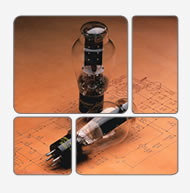 New page: About upgrading
13/01/07 13:29
I wrote a small
overview
on what we see as most efficient upgrades for CD players and DACs.